As you plan their special day, remember that entertainment is one of the most important elements for a successful Bat/Bar Mitzvah. No other single element will effect more how you and your guests remember their celebration than a fun and energetic Bat/Bar Mitzvah. Each client will be dealt with professionally and honestly from start to finish. Our business is built on referrals. Your satisfaction is our number one goal. Always.
At The Great Music Company, our Disc Jockeys are dedicated in making every Syracuse and Binghampton Bat/Bar
Mitzvah special. They will provide the right atmosphere to keep your guests dancing all night. Each of our Disc Jockeys brings with them their professional attitudes and their enthusiasm shows that they love what they do. Our entertainers are experienced in interacting with your guests and tastefully involving them in the fun.
We at The Great Music Company take great pride in our extensive music library that consists of over 100,000 songs. We will bring over 10,000 titles that include categories from the Big Band Era to the most current Top 40. They include Oldies, Dance, Rock, Country, etc. Our music is updated weekly to maintain your most current favorites.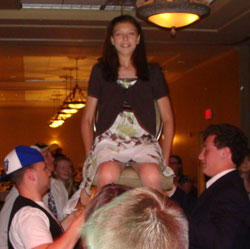 The Great Music Company has state of the art audio equipment. Each system is clean looking and features life-like sounds of high quality music files. We use only the finest in professional audio equipment such as JBL, Denon, and Crown. Add a light show and watch the party come alive. Let your guests be the entertainment for part of the celebration and have Karaoke. Our digital sound and lighting systems are second to none.
The Great Music Company is dedicated to working with the Guest of Honor in planning a day that is so special. You'll love our affordable packages customized to your tastes!