As you plan their celebration, entertainment will be very important for a successful Bat/Bar Mitzvah.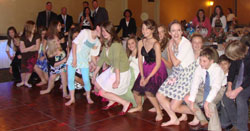 Your DJ will reflect their personality. From the introduction of the family members, the Hora, Candle Lighting, Toasts, Games, and taking care of your children while the adults are enjoying conversation, they will provide the right atmosphere to keep your guests dancing all night. Each of our DJ's brings with them their professional attitudes and their enthusiasm shows that they love what they do. Our entertainers are experienced in interacting with your guests and tastefully involving them in the fun.
We at The Great Music Company take great pride in our extensive music library. We will bring over
50,000 titles that include categories from the Big Band Era to the most current Top 40. They include Oldies, Dance, Rock, Country, etc. Our music is updated weekly to maintain your most current favorites.  You will receive a "Username & Password" to get into our website and you can build your music list online if you like.
When we sit down together, and with the venue as well, we will go over the timeline and music for each formality that will take place during the
Mitzvah.  We will discuss the music for introductions, what games he or she wants to do or not do, and candle lighting songs to be sure that everything is all set.  Timing is very important and so we work closely with the venue, photographer, and videographer, so everyone is ready to go.
The Great Music Company has state of the art audio equipment. Each system is clean looking and features life-like sounds of high quality music files. We use only the finest in professional audio
equipment such as JBL, Denon, and Crown. When we turn on the light show, watch the party come alive. Add a Photo Booth and use the pictures as favors for your guests to take home.  You will be able to pick out what color or what the picture will say on them ahead of time and you will receive a disc as well of all of your guests after the celebration.  We have Up Lighting. Light up the room to go along with the theme or to bring out their personality.  We will meet at the venue ahead of time to discuss the color and talk about placement as well.
The Great Music Company is dedicated to working with the Guest of Honor in planning a day that is so special. You'll love our affordable packages customized to your tastes!